Although this hobgoblin serf, Puck, is my mortal enemy,
he has one FANTASTIC page!  Check it out!  

 
 

 
This is the website for the official Robin of
Sherwood fanclub. It contains a lot of useful
and interesting information and links.  
 

 
 

 
Sadly, the Trail of Robin of Sherwood website is no
more, but there is a Facebook page that provides 
information on resources related to Robin Hood and
Robin of Sherwood. There are posts about places 
like The Robin Hood Experience and on retailers 
that sell RoS merchandise.   
  

 
 

 
This page provides excellent information on the subject
of Robin Hood!  It is a VERY good resource. It also has
a round of story-telling in Sherwood, YOU can 
participate in!  

 
 

  
Considering the fact that I've made links to three 
pictures from this site (and now pilfered one!), I 
thought it was time I gave it a link!  Enjoy!  It's
a wonderful page!  

 
 

 
This is the official site for Richard 
Rutherford-Moore's book,  The Legend of Robin
Hood . Rutherford-Moore is a FANTASTIC tour
guide in Nottingham, who really gets into the 
role! He knows his stuff and he has some fascinating
things on his site, including "The Foresters of
Sherwood AD 1200." Yes, this  does  contain
important information about poaching laws!  

 
 

 
This site provides a translation of  The Litell Geste
of Robyn Hode  by Graham McLennan and it is another
good resource for information on the legend of Robin Hood.
 

 

 

 
I never thought the day would come when I would do 
this, but...here's an actual link to an actual 
Michael Praed site!  Considering the subject matter,
its gallery is still VERY impressive! :)  

 
 

 
If you're thinking of joining one or both of the
existing RoS discussion lists, this site will give
you all the information you need to subscribe! 
 

 
The Mists of Time
 

 
Another new kid on the block, who has some UNIQUE
goodies within her site, including Robin Hood: The
Music Video!  Great fun for BOTH Loxley and 
Huntington fans!!!  

 
 

 
Which is your favourite ear...?  Well, it's about
time!  The Net finally has a Will Scarlet site, and
one that focuses on Ray Winstone!  This page is 
*definitely* is worth visiting, especially if 
Scarlet is your favourite wolfshead. Opps!  Did I 
really just say that...? :)  

 

 

 
This site impressed me as soon as I saw it! 
The graphics are beautiful and it's very 
informative! You can learn about the
background of the show, see the film locations
and read about mythic elements from the series.
 

 

 

 
As some of you may have noticed, the Robin of 
Sherwood Webring has changed location! Come and
visit the new place we call home!  

 
 

 
I probably shouldn't be supporting the competition
like this, but there's another Robin Hood Webring out
there!!!  Watch your purses and guard your lives!!!
 

 
 

 
Besides covering Robin of Sherwood (and most of 
the other Robin Hood TV productions), this comprehensive 
website provides information on classic TV shows from
Britain, Australia, the U.S. and Canada. There are even
articles, interviews, book reviews and DVD reviews.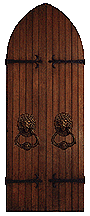 Some Links Outside
of Sherwood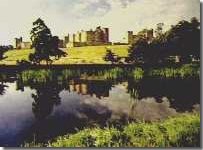 Have you lost all sense of decency and would like to link to my lord of Gisburne's page? Well, I've got two FABULOUS NEW banners thanks to Pam at Locksleyford. Don't feel you have to use them or anything. I mean, it doesn't bother me if you don't. I'm not the type to be bitter, or hold intense grudges for years and years...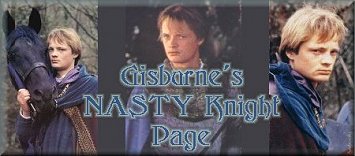 Submit your page to 34 popular sites for free, using one form!